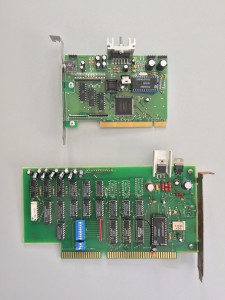 Auto-Lektor has a long history – first unit was sold back in 1998. It has become so popular in Poland that clients quite often use "Auto-Lektor" referring to any reading machine. The beginning of the development dates back to 1993, when Harpo engineers first met scientists from Poznań chapter of Institute of Fundamental Technological Research
of Polish Academy of Sciences. Polish Speech Synthesis was developed at that time by Prof. Wiktor Jassem and Prof. Grażyna Demenko at the mentioned Institute.
The Institute has signed license contract with Harpo (probably first agreement with a private company in the history of this prestigious institution) and speech synthesiser was commercialised with a name of "Kubuś". It was awarded a prize for the most innovative product of the year by PC Kurier – a well known computer magazine.
Another idea came very soon – to make a Polish reading machine for blind people that will be reading with Kubuś voice. The project started in 1996, Harpo worked with another software house Neurosoft to make an OCR for Polish language. First Auto-Lektor speaking with Kubuś voice was sold to a blind user end of 1998. This product was immediately awarded with "Motyl 1998" prize from the "Porozumienie Bez Barier" Foundation for the best product for people with disabilities (by the First Lady Jolanta Kwaśniewska).